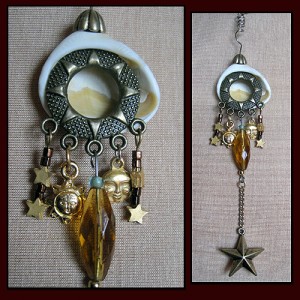 Like jewelry for your home.
Eye Catchers are made with shells, sea glass, findings, vintage earring components and beads, chandelier prisms and all kinds of shiny, interesting dangling things that will surely catch one's eye.  Hang it in a sunny window, hang it on the Christmas tree or your car mirror. A great gift for that special person who brings joy and light into your life.
Give her the sun, moon and stars. This ornamental eye catcher looks great from any angle. The light shining through the shell paints such a lovely picture as does the sun reflecting through the center amber glass bead. 6 1/2 inches long from the silver metal corkscrewed hanger to the very bottom of the star.
See more  of My Eye Catchers ~ Family Jewels Hung Well