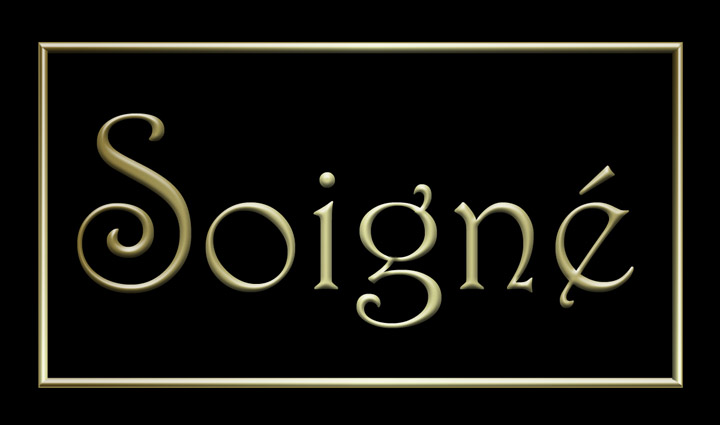 ---
Soigné  –  Also soignée, an adjective, pronounced (swän-yā')
It's a French word, according to the dictionary, that means:
---
Showing sophisticated elegance; fashionable: a soigné little club.
Well-groomed; polished: The soigné celebrity granted a brief interview.
---
"Soigné dining", a phrase my father often used while my brothers and I were growing up, to describe the meal and table set before him in the dining room.  It was such a compliment to my mother on an exotic dinner she had made, fit for a king, cut glass dishes for the condiments, fine china and fancy serving bowls.
In 1994, after 50 years of marriage, my parents both passed away, three months apart from cancer, and it was while writing the eulogy for their memorial service that I realized I had no idea how to spell this word, soigné.  And for almost 10 years, no one I asked had ever heard of this word.
---
The phrase "soigné dining", passed down to my husband and I along with the cut glass and fancy serving bowls, would make me smile  whenever either of us would say it, thinking my father must have made the word up.
Until 2004, I was watching a show I had taped on VHS and at the end, the last half of an old episode of Frazier was playing.  Niles had gotten a good deal on some beluga caviar and the brothers were so excited.  I was just about to hit the Stop button when I heard Frazier say,  "Oh Niles, won't this make our soiree soigné?".  I played it back several times.  I couldn't believe it!  More determined than ever, knowing then that it was a real word, I searched the internet for the spelling and definition again and came up with nothing.
---
And then one day, I passed this woman coming into the building where I worked.  She had overheard me tell this story about my father and the word, soigné, and she looked right at me and said, "Soigné, it's a French word.  Did you ever figure out how it is spelled?"  No, I hadn't, I told her.  She wrote it on a post it note and handed it to me.   The search and mystery had ended. Since then, I have heard the word used on Project Runway and in a song by The Pine Leaf Boys and on a few other occasions and it makes me smile every time.