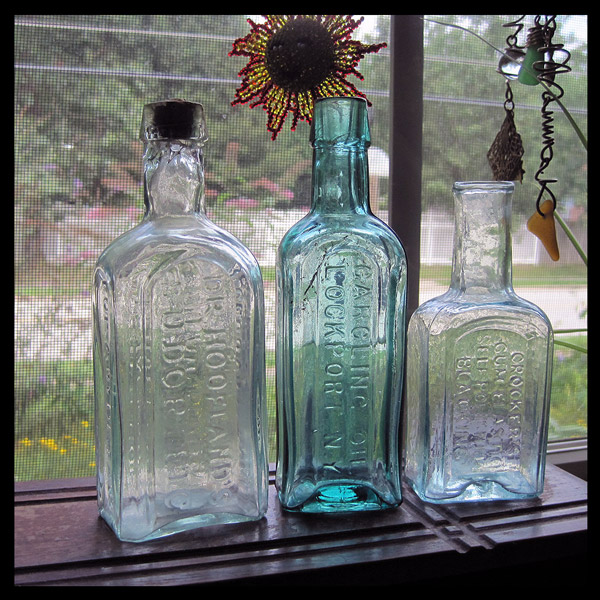 There are three 19th century antique bottles sitting on the window sill on top of an old Singer Sewing Machine cabinet drawer.  I've had them forever, never really thought about selling any of them until I started to do a little research and started asking around about them.
One of them, the teal Gargling Oil bottle made in Lockport New York, is rather common.  This one I have listed in my shop on Artfire ~ PattyAnn's Vintage and Other Cool Stuff.
The other two are not so common and would make a fine addition to someone's antique bottle collection.  They are not currently listed for sale but I have gotten a few offers.  Interested?  Make me an offer I can't refuse – Contact Me Here
Antique Medicine Bottle Dr. Hoofland's Sudorific C M Jackson Philadelphia
This antique pale green bottle of Dr. Hoofland's Sudorific For Any Disease of the Lungs or Throat was manufactured and distributed by CM Jackson Philadelphia. Rectangled antique bottle has beveled corners, opened pontil scar  and recessed panels on all four sides with embossed letters:
Dr. HOOFLANDS SUDORIFIC
FOR ANY DISEASE
OF (on bevel)
C.M. JACKSON PHILADELPHIA
THE (on bevel)
LUNGS OR THROAT
The cork is still inside the collared top. Visible inside the neck are cracks, swirls, bubbles. Open pontil scar is sharp as well as a small chip right below the collar on the outside. This 19th century medicine bottle measures 5 1/2″ tall and 2″ wide.
Sudorific, relating to or causing sweating, would have been used to reduce fever and aid in eliminating toxins in a patient's body?
Dr. Hoofland (Dr. Christolph Wilheim Hueflin) was a German doctor who introduced his Celebrated German Bitters to America in 1850. C.M. Jackson (Charles M. Jackson) located at 120 Arch Street in Philadelphia, began manufacturing and selling his products until 1863.
******************************
Aquamarine Antique Bottle Rare Find Crocker's Gum Elastic Self Polishing Blacking
This one, apparently, is a rare find! Made between 1856 – 1860 at New London Glass Works in Connecticut, this light aquamarine, rectangled antique bottle has beveled corners and recessed panels. The front panel has embossed letters:
CROCKER'S
GUM ELASTIC
SELF POLISHING
BLACKING
Open pontil scar on the recessed bottom has sharp edges and a few rough spots on the lower outer collar of inward rolled top. No cracks, minor scratching. Measures 5 1/2″ tall and 1 3/4″ wide.